If you are looking for wedding nail colors that will give you a romantic look, consider the following options. These shades will help you capture the essence of love and elegance on your big day. Plus, they are all versatile enough to wear for any other special occasion. So, whether you want to go with a soft and subtle shade or something more eye-catching, these colors can help you achieve the desired look.
The best romantic wedding nail colors for your Big Day
Your wedding day is a special occasion that you will remember forever. Every detail of your big day should be perfect, including your nails. Choosing the right wedding nail colors can be a challenge, but we are here to help.
If you are looking for a romantic look, consider using soft and feminine colors like pale pink, nude, or light lavender. These hues will complement your wedding dress and make you feel like a beautiful bride.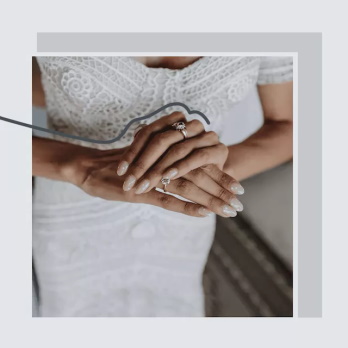 Try a metallic shade or even black nail polish for something a little more unique. These unexpected colors will give your nails an edgy and fashion-forward look.
Pale pink: This delicate shade of pink is perfect for creating a soft, feminine look. It's also a great choice if you're looking for a nail color that will go well with any wedding dress.
Cream: A classic neutral shade, the cream is an excellent choice if you want a manicure that won't clash with your dress or accessories. It's also a good option if you're looking for something not too over-the-top.
Glitter: If you want to add sparkle to your nails, glitter is the way to go. Choose a shade that coordinates with your wedding colors for a cohesive look.
If you are still unsure what wedding nail colors to choose, take a look at our gallery for some inspiration. You are sure to find the perfect shade for your big day!

Wedding nail polish colors for a classic look
If you're looking for a unique look, you might want to try using two colors instead of just one. You can either use a light shade and a dark shade or two completely different colors. Either way, this will give you a unique and stylish look that will stand out from the crowd.
When it comes to choosing the right wedding nail polish colors, it's important to keep in mind the overall theme of your wedding. If you're having a traditional wedding, you'll probably want to stick with classic colors like white or ivory. However, if you're having a more modern wedding, you might want to try something a bit different.
Remember that your nails are one of the first things people will see when they look at you, so it's important to make sure that they look their best. Take some time to experiment with different colors and styles until you find the perfect look for your big day. With so many options available, you're sure to find the perfect wedding nail polish colors for your special day.