If you're planning a pastel wedding, you'll want to choose hair colors and styles that complement your theme. These ideas will help you create a beautiful look for your big day, from soft pink to baby blue. Whether you go with a classic updo or something more modern, these colors are sure to make you stand out. So grab your bridal stylist and start planning!
Dreamy pastel wedding hair ideas to steal
Having a pastel wedding? Great! Now it's time to find the perfect pastel wedding hair idea to make your big day even more special.
While you may be thinking about going for a traditional white dress, why not switch things up a bit and go for a pastel gown instead? Not only will you stand out from the rest of the crowd, but you'll also look gorgeous in photos.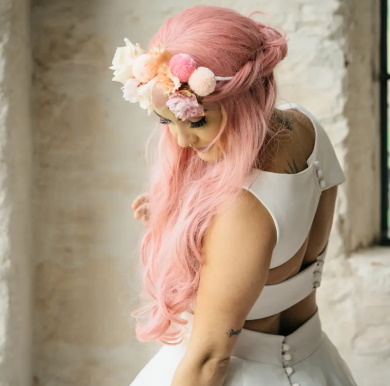 And as for your hair, there are so many ways to style it in pale pink, blue, and lavender shades. So whether you want to keep it simple with a pretty updo or add some fun braids or flowers, we've got just the right ideas for you.
Take a look at these 25 pastel wedding hair ideas and get inspired for your own big day!
Soft and Romantic Updo
If you're looking for a romantic and feminine updo, this one is for you. It's perfect for showing off your pretty face and neckline, and it'll stay in place all night long.
Lavender Braided Updo
Add a pop of color to your updo by incorporating some lavender into your braid. It's a subtle way to add a little something extra to your look.
Blue Ombre Braids
Forget about using ombre hair color on your locks – try it with your braids instead! This look is fun, playful, and perfect for a summertime wedding.
Pink Flower Crown
Flower crowns are always a good idea, especially when they're made with pastel blooms. This one is perfect for keeping your hair out of your face on a windy day.
Pastel hair dye guide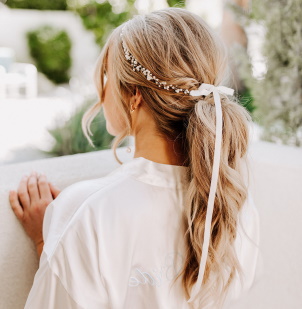 Pastel hair dye is all the rage these days, and it's easy to see why. This unique hair color can give you a fun and ethereal look. Read on for our complete guide to pastel hair dye if you're thinking about trying out this trendy hue.
First, let's start with the basics. Pastel hair colors are typically pale, soft versions of traditional hair colors. Think baby blue instead of navy, or cotton candy pink instead of fuchsia. These colors are achieved by using a special hair dye mixed with conditioner instead of developer. This helps to deposit the color onto the hair without lifting the natural pigment (as traditional hair color does).
Now that you know the basics let's talk about how actually to achieve this look. First, it's important to note that pastel hair colors are best suited for those with light hair. If your hair is on the darker side, you'll likely need to pre-lighten it before applying the pastel hue of your choice.
Once your hair is light enough, mix the pastel hair color with a conditioner and apply it to your hair from root to tip. Be sure to saturate your hair completely for even coverage. Once you've applied the color, allow it to process for 20-30 minutes before rinsing it out with cool water.
And that's all there is to dye your hair with a pastel color! You can achieve this trendy look at home with just a few simple steps. Just be sure to use a quality hair dye and conditioner to avoid damaging your strands.